It's only been 2 days & i have loads to catch up on, so we'l start with MY LITTLE SHOE BOX design team call, YEAY here's the detail's...
My Little Shoebox Design Team Call
My Little Shoebox is looking for talented, motivated, responsible designers who have time to commit to design layouts and projects each month with our products and promote our products online and at their local stores. We haven't set a specific number of designers for our team. We welcome international submissions.
We are looking for:
1. Enthusiastic, creative people that love My Little Shoebox and are able to do monthly assignments such as layouts, projects, and cards with our products.
2. You must post your work on 2 different galleries plus the MLS galleries
3. You must be able to commit to a 12 months term, which will be from
April 1, 2012 through March 31, 2013.
4. You must be at least 18 years of age.
5. You agree to release the rights of your designs to My Little Shoebox for display on the company website, blog, and in company publications.
6. If needed, your designs may also be needed for display at trade shows.
7. In addition, as a design team member, you will be contributing twice per term to our company newsletter and be required quarterly to make a photo or video highlighting a technique for the blog.
8. People that can take great pictures of their work in natural light, with a few close-ups. Because we will be posting your work on our company blog, we want your work to shine. Dark photos, shadows and flash spots don't show your work well.
9. International submissions welcome.
In return you will receive:
1. A quarterly package with plenty of MLS products to design with.
2. Your picture and bio on the My Little Shoebox website
3. Your own personal gallery on the My Little Shoebox website.
To apply please send the following to dtcall@mylittleshoebox.com (please use your full name as the subject):
1. Full name, address, phone number and email address
2. 1 layout, 1 card and 1 project representing your best work using MLS products (jpeg files no larger than
500 kb)
3. A link to your personal blog and to the online galleries or message boards that you post on.
4. Design teams that you currently are on.
5. Write a paragraph about yourself telling us why you'd like to be a part of the MLS team.
6. If you've been published.
7. If you teach classes.
Submission deadline is March 9, 2012
Our design team members will be announced on April 13, 2012
We thank you in advance for all of your work and appreciate your entry!
www.mylittleshoebox.com
www.mylittleshoebox.typepad.com
Feb 20th was my birthday & i had loads of cards & visit's from family & presents from my family too, ahh so blessed, esp the presents i recieved from my dd, 2 little toys & a eraser from her room, a picture she draw & a chocolate "bounty" bar, now the bounty bar was her desert one evening & she saved it for me, i knew about this because she asked me to help her wrap it up in take away flyers that was posted through the door one day, bless her cotton sock's!!
I had a girls night out saturday 25th as that was the nearest day i could round up me girl's, cheer's!!!
All my photo's that i had taken on my cell phone that night turned out AWEFUL!!! but i will keep them as they are still MY memories & i will scrap them too, oh i do have a good photo im waiting to get here through the post, a woman was going around & taking photo's for £3 each every night out we have, we buy a photo because we know its the only decent one we'l probally get.
So today me & gary went to the ice rink, its so nice to be able to go when the kids are at school, i felt a bit guilty at first as the kids are at school missing out on the fun, but its a chance for us to get in a bit of "our" time & the ice rink is a special place for us, it's where we met. ekk
Our ice rink is really run down, so i suppose that one of alot of reasons why they are pulling it down, we'l be sad to see it go, so we want to get in as much ice time as possible.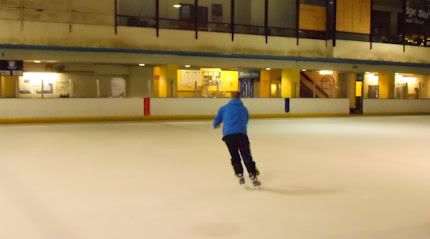 & i want to try & take all the pictures we can too, my new "compact" camera came yesturday, a little nikon coolpix & so these photo's are not very good, im thinking this is why i upgraded all those yrs ago!! But i'l keep the camera, it will be good for the kids to take photo's later too.
We went to the skating shop before we went to the rink today & i managed to buy myself a new pair of boot's, & got them sharpened too, look at these babies!!!
I was a bit wobbly at first as so many things was wrong with my old boots, the support was gone & so that made skating difficult & my right foot leaned in so much my boot almost touching the ice, so as i was use to skating like that it took all of about 10mins to get the hang of these ones, but i am in love, hehe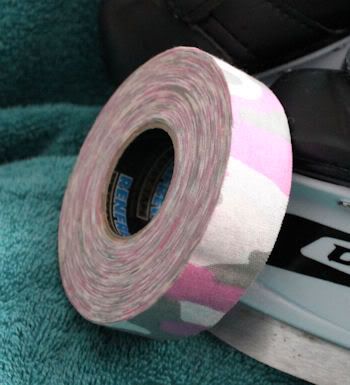 Whilst we was a the skate shop i saw this hocky tape, what hocky players use to bind the blade part of thier stick & use wax on it too, to help them glide along the ice & play with the puck better, they gave me it because i was rambling on about my other hobby "scrapbooking" & when i saw it i though ahh i could use that on my pages so i was telling them all about echo park & my little shoe box, etc...na they was really interested, lol
This is my knee, beautiful isnt it, well as im typing this 7 hours later after taking this photo, my whole knee is a beautiful shade of purple all over the knobbly bit & its not so knobbly anymore, where it is that swollen & i burned my elbow too!!
I took a fall, a BIG fall i was skating along, FAST & the front of my blade went in a dipp, i lost my balance & fell forward & slide for about 7ft, i thought i broke my knee at first!! But im fine just bruised ego & knee, i got up rested for a bit & got back on the ice...happy days xx
Thanks for stopping by
{{{hugs}}}
Sarah xx